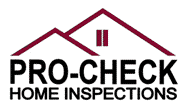 SERVICES
General Home Inspection
Our thorough and professional home inspections adhere to the highest standards in home inspection industry, which helps to ensure our clients have all the necessary information about a property and its operating systems. We use the latest technology to do home inspections, giving you the best possible report on the condition of your home or future home.
In both new and older homes, the best way to ensure that you are well informed about the strengths and weaknesses of a property is to have us give you a professional home inspection. We are trained and certified to identify areas, both small and large, that may have been overlooked by the previous owners and to identify which require immediate attention.
Our thorough home inspection will include the following: 
Roof: shingles, flashings, chimneys, vents, trim and gutters, drip edges, skylights, downspouts, and other visible roof related items
Attics: insulation, ventilation, rafters, sheeting, joists and collar ties, trusses, wiring attachments, and other visible related items
Plumbing and Fixtures: water pressure, water distribution system, hose bibs, sinks and faucets, bath/showers and toilets, sanitary system, and other plumbing system components
Interior: floors and ceilings, walls, stairs (if applicable) and banisters, finishes, sinks, cabinets, shelving, built-in appliances, smoke detectors and safety-related items, fireplaces and other visible interior-related components
Heating and Cooling Systems: furnace, air cleaning parts, ductwork, electronic carbon monoxide testing, electric gas sniffer testing, air conditioner and lines, and other visible related HVAC components
Electrical Systems: service entry and clearances, service panel, switches and outlets, visible wiring and junction boxes, grounding system, and other related electrical components
Basements, Crawl Spaces, and Foundation: insulation, ventilation, posts, vapor barriers, utility attachment, structural items, floors, walls, and columns
Exterior: siding materials, attachments, windows, doors, sashes and lintels, vents, entryways, decks, porches and other visible exterior related components like lot and grading.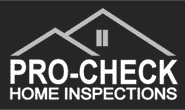 Jay Birkholz
Colorado Springs, CO
Copyright © 2017 Pro-Check Home Inspections. All rights reserved.